Regional groups are an ideal complement to your AHTA membership. Connecting with other horticultural therapy professionals in your area enables you to exchange ideas, participate in group events, and network with a variety of colleagues. Regional horticultural therapy groups are doing excellent work for their members and their regions!
Please contact the regional horticultural therapy groups in the following areas to learn more and make sure to check their websites for upcoming events in your area.
Regional Horticultural Therapy Networking Groups Guidelines and Criteria:
Regional Horticultural Therapy Networking Groups are defined as groups that support the mission of the American Horticultural Therapy Association (AHTA).
Networking groups are independent groups.  There is no legal/business link with the AHTA.
The AHTA does not oversee, monitor, nor manage the membership of the networking groups.
The AHTA will list the networking group and contact information on the AHTA website.
Networking groups that do not have a designated nonprofit status will be identified by their region or state.
The designated group contact is required to be a professional member of the AHTA.
The AHTA will post networking events on the AHTA Calendar of Events and share information through the AHTA social media platforms.
Networking groups may not use the AHTA logo or name without prior permission.
---
NC and SC
Contact: Catherine Crowder
---
Rocky Mountain Horticultural Therapy Network
CO, ID, MT, NM, UT, WY
Contact: Erica Wharton

---
California Horticultural Therapy Network
CA
Contacts: North: Trish Hildinger and South:  Silvia Yoshimizu-Yee
---
Florida Horticulture for Health Network
FL
Contact: Lesley Fleming
---
Michigan Horticultural Therapy Association
MI
Contact: Angie Girdham
---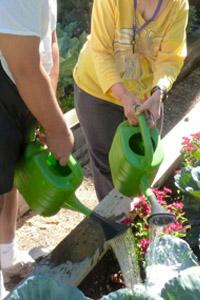 Mid-Atlantic Horticultural Therapy Network (MAHTN)
NJ, NY, PA 
Contact: Gerry Sherman

---
Northeast Horticultural Therapy Network
CT, MA, ME, NH, NY, RI, VT
Contact: Colleen Griffin
---
Northwest Therapeutic Horticulture Networking Group (NWTH)
ID, MT, OR, WA
Contact: 
[email protected]
---
Regional Events
To find upcoming horticultural therapy activities in your area, please be sure to visit our Event Calendar.