Save the Date for the 2017 AHTA Annual Conference in Burlington, Vermont!
September 8-9, 2017
Pretours on September 7
Join us in Burlington, Vermont for the 2017 AHTA Annual Conference. Hosted by the Northeast Horticultural Therapy Network, the conference will bring together horticultural professionals from around the world. Pretours will feature local gardens and programs. Add in the bonus of the Fall "Leaf Peeper" season and you have the perfect combination of networking, education, and fun. The conference will be held at the Burlington Hilton Hotel in the heart of the city.
Plenary Speaker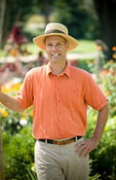 Charlie Nardozzi is a nationally recognized garden writer, speaker, radio, and television personality. He has worked for more than 25 years bringing expert gardening information to home gardeners through radio, television, talks, tours, on-line, and the printed page. Charlie delights in making gardening information simple, easy, fun and accessible to everyone. For the past 6 years Charlie has co-lead School and Community Garden Organizers workshops around Vermont helping groups and individuals becoming better at managing their garden programs. For the past 4 years Charlie has partnered with the VT Department of Health, Vt Community Garden Network (VCGN), BCBS of VT and Gardener's Supply Company to administer garden grants to small scale employers looking to start employee gardens. This includes technical assistance. For the past 2 years Charlie has worked with the non profit HANDS and VCGN in initiating and teaching classes for Veteran's Gardening Programs around the Burlington, VT area.